Charitable Impact
BUDDHA JEWELRY WAS FOUNDED ON LOVE AND RESPECT TO PIERCERS IN OUR INDUSTRY AS WELL AS TO ALL PEOPLE OF ALL CULTURES, COMMUNITIES, AND BACKGROUNDS ACROSS THE GLOBE.

WE ARE COMMITTED TO SUPPORT THE ORGANIZATIONS THAT CREATE A BETTER WORLD FOR US AND SHARE LIKEMINDED VALUES. KEEP SCROLLING TO LEARN ABOUT THE MANDALA PROJECT AND OUR WORK WITH THE TLDEF AND IT GETS BETTER PROJECT.
The Mandala Project

The Mandala Project allows us to directly give back to charitable organizations and communities in need through each purchase of our Mandala CZ Threadless End. 
We are proud to donate 50% of each Mandala Threadless End sold to a non-profit charity whose values we strive to uphold and support. Each quarter, we select a new non-profit to donate to, allowing us to support many amazing nonprofits. Through this project, we aim to advocate, raise awareness, and stand in solidarity with the selected non-profit.
Nonprofit Organizations we have donated to with the Mandala Project include:
If you are interested in submitting a nonprofit, please send us an email with details to: info@buddhajewelry.com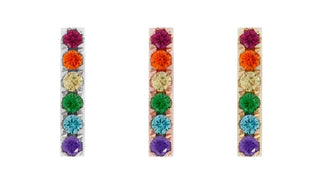 Finally, we support the It Gets Better Project through our Rainbow Rowe Threadless End. The It Gets Better Project's mission is to uplift, empower, and connect lesbian, gay, bisexual, transgender, and queer (LGBTQ+) youth around the globe.
Through each purchase of our Rainbow Rowe Threadless End we contribute a portion to our quarterly donation contribution.