All of our Genuine Diamonds are ethically + sustainably sourced through the Kimberley Process. The Kimberley Process (KP) unites administrations, civil societies, and industry in reducing the flow of conflict diamonds - 'rough diamonds used to finance wars against governments' - around the world. We are proud to partner with this organization, ensuring all of our Genuine Diamonds are conflict-free.
Did you know? 95% of Black Diamonds in jewelry are actually Genuine White Diamonds that are treated to induce the color. This is a very common jewelry treating process that allows us to bring you the absolute best black diamonds while ensuring accessible prices.
Please be mindful of gemstone delicacy when storing and traveling with your jewelry. We cannot be responsible for replacing jewelry that is damaged due to wear and tear or suboptimal care. 
Mercury Mist Topaz: Mercury Mist Topaz's magical iridescence is created by coating the surface of genuine white or clear topaz with a microscopic layer of metallic oxide. Mercury Mist Topaz is resilient enough for daily wear, but this thin layer can incur scratches, revealing the topaz underneath. Avoid abrasives and heavy buffing.
Pearls: Our pearls are safe to autoclave. Please note, genuine white pearls will naturally shift to a cream or golden luster over time. 
Genuine Gemstones: Our genuine gemstones are ethically sourced and hand-selected, allowing us to procure premier cuts and colors from nature for our designs.
Nothing in nature repeats precisely the same way, including genuine stones. All natural stone inlays will have their own unique markings and striations, which can also include small hollows and channels. We strive to select a coordinating set for each pairing, but due to the nature of genuine stones, please allow for some naturally occurring slight variations.
If you have a strong preference for a particular color or pattern, please let us know when you place your order. We'll try our best to accommodate your request, but it is not guaranteed due to the nature of organic materials. Additionally, due to the nature of stones being hand cut, please anticipate the possibility of a slight variance in measurement.
While we make all our products with the highest integrity and quality, Chains are inherently delicate by nature. If there is a chain breakage due to a manufacturer error, we are happy to offer repairs for one year from the purchase date. Please contact us if you need support: returns@buddhajewelry.com
Our jewelry is strong by design, and innovatively crafted to stand the test of time. Every part of our process is compliant with APP standards and global regulations. No matter what metal you choose from us, it is guaranteed to be 100% lead and nickel free. We use a non-toxic, all natural vegan polishing compound to ensure the safest products for our clients.
To prolong the brilliance of your plated and solid metal jewelry, follow these best care practices: 
Avoid any contact with heat, direct sunlight, fresh water, salt water, swimming pools, and any chemicals. This includes personal hygiene products and chemical jewelry cleaners. Everyday products like household cleaners, lotions, hair products or other cosmetics can contain chemicals that will permanently damage your jewelry. Even your own sweat and body PH can wear down the plating over time. Do not use traditional jewelry cleaners on your plated jewelry, or any other chemical-filled solution, not even toothpaste.
Polish your jewelry with light pressure using a microfiber shine cloth. 
For solid gold jewelry, warm water and gentle soap, along with a soft bristle brush (such as a toothbrush), are the safest options for removing any debris. 
For plated jewelry, any interactions with moisture can cause wear to the plating, including water and sweat. Do not use any cleaning products. 
Store your collection in a jewelry box to help avoid oxidation.
As one of the most experienced and well known jewelry companies in the professional industry, we strive to always maintain the highest caliber product. We stand behind our jewelry with a 100% guarantee against manufacturer's defects. We thank you for purchasing our jewelry!
Our plated gold jewelry maintains the highest standards of production, above and beyond the strictest compliance levels, with no nickel added for adherence. With a 1-3 micron thickness of 18kt gold plating, our jewelry has historically been well above and beyond industry standard, at least double if not significantly higher.
Please note: Unlike solid gold, plating will wear thin over time even with our abundant micron plating. Beneath the metal plating is nickel free European jeweler's brass.
Show your jewelry some love! From time to time, put a pea-sized amount of jojoba or grape seed oil on a soft cloth or paper towel and lightly oil your wood, horn and bone jewelry. Don't wear your jewelry in water, store it in your bathroom or keep it in other damp places.
We try our best to keep our jewelry sizes as uniform as possible, but because our pieces are hand carved, we have a +/- .5 millimeter margin of error. If the size difference of your jewelry is significant but still within the range, we'll reach out to you.
Our organic jewelry can have slight variations in color, size and carving because natural materials aren't uniform and our products are hand carved. Wood, stone, horn and shell often have different colors, patterns and striations on the same piece of material. If you have a strong preference for a particular color or pattern, just let us know when you place your order. We'll try our best to give you your preferred color choice, but it's not guaranteed due to the nature of organic materials.
Note that we strive to display our products as accurately as possible, but images can be distorted by different settings on computers and phones.
Single Flared- Flare on one side only and o-ring on the other. Single flared plugs are one of the best for stretching.
Double Flared- Flare on both sides of the plugs. Double flared plugs are perfect for people who are no longer stretching and at their goal size.
Mayan Flared - Larger front flare than back. This style does NOT effect size or how the jewelry fits in your ear. With a mayan flare, the back flare will always be a normal size, so you are able to get them in and out of your ear. This style can be front heavy for some people, but extra support of an o-ring on the back can help.
Threadless Ends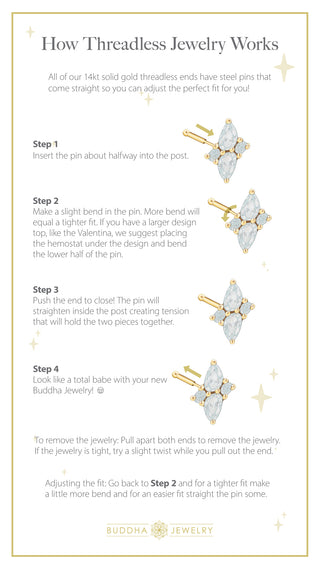 clickers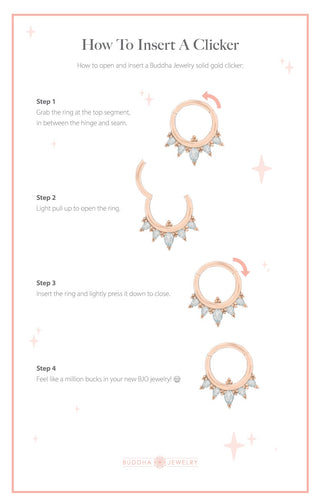 SIZE CHART